Optical cable armored with steel tape, central tube design.

Crushing force from 300 N/cm

Tensile force up to 4 kN

Operating temperature from -40°С to +70°С Installation: up to -30°С

Fire-safe

Rodent protection
Construction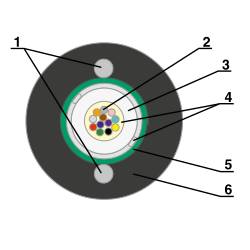 1.Central strength member - FRP rod, steel strand or steel wire in PE sheath (or without it).
2.Optical fiber.
3.Tube.
4.Water-blocking tape.
5.Steel corrugated tape.
6.Outer PE sheath.

Specifications
Number of optical fibers in a cable


Nominal calculated cable diameter, mm


Calciulated cable weight, kg / km


Tensile force, kN


Min.radius of cable bending, mm


OKKTS(n)-00-1х4...1х48...-(2,7)

Up to 24

8,1

Up to 80

2,7

162

Up to 48

10,7

Up to 117

214
Custom design is available.
Применение
The cable is designed for installation in cable channels, pipes, blocks, collectors, tunnels, along bridges and in shafts.