Unarmoured optical cable, center tube design.

Crushing force from 300 N/cm

Tensile force up to 3 kN

Operating temperature from -40°С to +70°С Installation: up to -10°С

Fire-safe

Rodent protection
Construction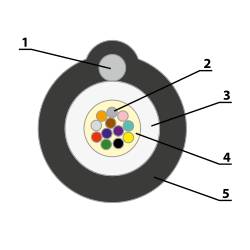 1.Strength member – steel galvanized wire.
2.Optical fiber.
3.Central tube.
4.Water-blocking material.
5.Outer fire-retardant PE sheath.

Specifications
Number of fibers in cable

Cable dimensions, mm

Calculated cable weight, kg/km

Tensile force,kN

Min. radius of cable bending,mm

OKTTSng(А)-HF-00-1х4...1х48...-(1,0)

Up to 24

6,7х7,7

Up to 70

1,0

154

Up to 48

7,8х8,8

Up to 90

176
Custom design is available.

Применение
The cable is designed for installation in cable channels, inside buildings and structures.