Composite optical cable with a conductive core made of aluminum alloy, suspended self-supporting protected, design with a central tube.

Crushing force from 300 N/cm

Tensile force up to 15 kN

Operating temperature from -60°С to +70°С Installation: up to -30°С

For any climatic zones
Construction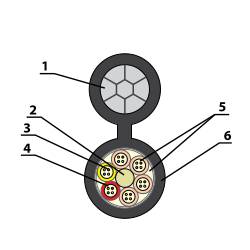 1.Outer messenger (electrical conductor of aluminum alloy SIP-3)
2.Central strength member made of FRP.
3.Optical fiber.
4.Loose tube.
5.Water blocking element.
6.Outer light-stabilized XPE sheath.

Cable with a central tube with up to 48 optical fibers is available.


Specifications
Number of optical fibers in a cable


Number of optical fibers in a tube


Cable dimensions/Outer strength member diameter,mm


Calculated cable weight, kg / km


Tensile force, kN


Min.radius of cable bending, m


SIP-3 1х70-20/OTS -48…

Up to 24

до 24

8,9х26,7/14,3

Up to 418

20,6

286

Up to 48

до 48

10,0х27,8/14,3

Up to 455

286

SIP-3 1х70-35/OTS -48…

Up to 24

Up to 24

11,3х31,5/16,7

Up to 502

20,6

334

Up to 48

Up to 48

12,4х32,6/16,7

Up to 555

334

Custom design is available..
Применение
The cable is designed for suspension and service on aerial lines supports for rated voltage 20 and 35 kV, in atmosphere of type I, II and III, with climatic solutions B according to GOST 15150-69, including the atmosphere overseas, salty lakes, in industrial regions and of saline sands.